---
Aventura Homes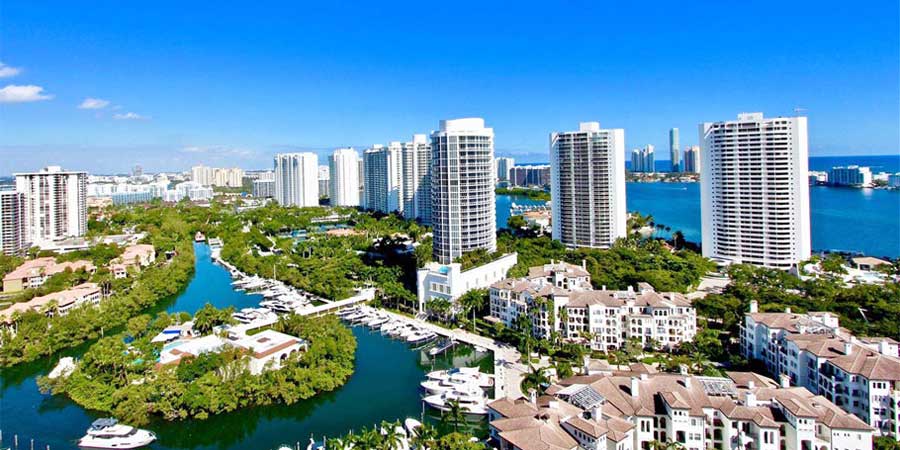 Aventura homes feature sleek, high-rise, single-family homes ideal for those looking for a more suburban feel. Aventura is a suburban city nestling in the Northeastern part of Miami-Dade County, just West of Biscayne Bay and right in the heart of metropolitan South Florida. It is conveniently set 12 miles north of Miami and 12 miles south of Fort Lauderdale and is an excellent choice for those commuting in either direction. The luxury homes in Aventura have become correspondent with the affluence of the tech professionals and entrepreneurs who inhabit them.
While the word Aventura means "adventure" in Spanish, it is likely most well-known for the ultimate shopping destination Aventura Mall, home to over 280 retailers and six department store anchors. The JW Marriott Turnberry Resort & Spa is another major attraction. The famous resort is home to two golf courses, two signature restaurants, multiple swimming pools, and a wellness spa. You'll also discover the Tidal Cove Waterpark here, with a FlowRider® surf simulator, seven water slides, and a lazy river. For an extraordinary meal, dine in an elegant yet playful setting at the resort's Bourbon Steak Miami by celebrity chef Michael Mina. Aventura is also home to Gulfstream Park & Casino, prized for its pure-bred horse racetrack with year-round championship racing. It promises an action-packed good time, especially with the venue's more variety of entertainment, including a casino, bowling alley, and live music performances.
Nature lovers can also venture to Florida's largest urban park, the Oleta River State Park—one of the great ways to savor Miami's unique ecosystem and natural beauty. Other stand-out features of the Aventura neighborhood include a Community Recreation Center, a Liberal Arts theater, and a popular running route around the Aventura Circle.
The culturally diverse Aventura community isn't only best recognized for its world-class shopping and relaxation. It is also deemed an excellent place to raise a family, with an award-winning charter elementary school that opened in 2003. Aventura homes are undoubtedly one of the perfect places to live for those who love to have all of the comforts and conveniences within reach. 
If you are one of those looking for a home to rent or purchase in this beautiful neighborhood, feel free to contact us in Thine Agency today!
Address
Price
Beds/Bath
Interior
Updated

$10,975,000

$1575 / Sqft

6 / 5
6968 sqft
1 week ago

$3,590,000

$1064 / Sqft

5 / 5
3371 sqft
1 week ago

$2,995,000

$1136 / Sqft

3 / 3
2635 sqft
1 week ago

$2,500,000

$968 / Sqft

4 / 4
2582 sqft
4 months ago

$1,650,000

$715 / Sqft

3 / 3
2306 sqft
4 days ago

$1,595,000

$691 / Sqft

3 / 3
2306 sqft
3 hours ago

$1,545,000

$615 / Sqft

4 / 4
2509 sqft
1 week ago

$1,499,000

$641 / Sqft

3 / 3
2338 sqft
1 week ago

$1,469,000

$609 / Sqft

3 / 3
2412 sqft
1 week ago

$1,450,000

$711 / Sqft

3 / 3
2038 sqft
1 month ago

$1,299,000

$605 / Sqft

3 / 3
2145 sqft
1 day ago

$800,000

$533 / Sqft

4 / 2
1500 sqft
5 months ago
Tell Us More About Your Search !
Find your ideal home.