---
Bal Harbour Homes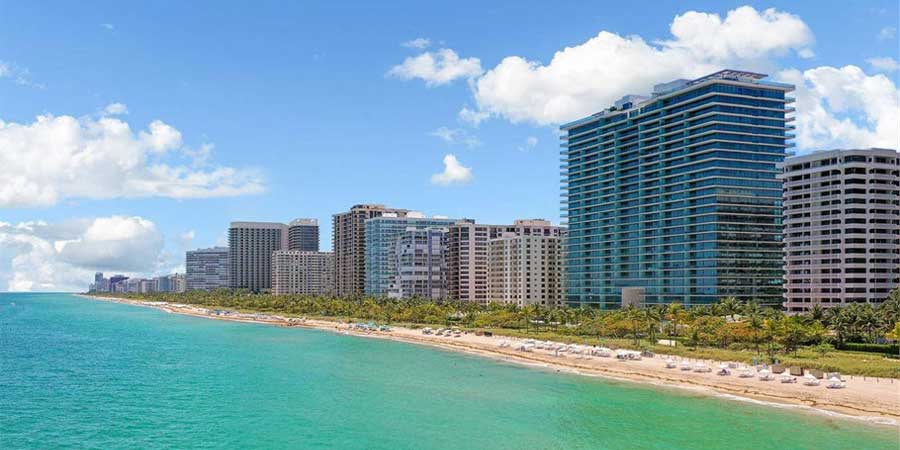 Bal Harbour homes bring an upscale urban feel settled at the shining northern tip of Miami Beach. Bal Harbour is famous for its luxury shops and gorgeous oceanfront resorts with white sand beaches. It's also home to several fine dining restaurants with various cuisines. The views are panoramic from any vantage point, with Haulover Inlet at its northern border, Biscayne Bay to its west, and the vast Atlantic Ocean to its east.
Bal Harbour homes residents relish ultimate shopping as Bal Harbour shops serve as a prelude to the area. The premier al fresco mall was established in 1965. Its mid-century contemporary cool is maintained today through landscaped breezeways with leafy palm trees, tropical flowers, limestone fountains, and koi ponds.
The mall parades luxury flagship boutiques such as Gucci, Chanel, and Prada, attracting energetic shoppers and those who love to browse. It is also a terrific destination for a lunchtime shopping break or a sophisticated dinner out. Several popular on-site restaurant options among Miami's fashion set include the following: The Italian Carpaccio Restaurant nestled in the heart of Bal Harbour Shops, Makoto for creative sushi and Japanese fare, and the cheerful French brasserie Le Zoo, both created by prominent restaurateur Stephen Starr.
Bal Harbour features quite a status for the world's most discerning wanderers seeking Miami's finest resorts and residences. Bal Harbour homes' excellent location places its residents just around 7-35 minutes from the famous beach destinations of Florida, such as South Beach, Miami Beach, Sunny Isles Beach, and Hollywood Beach.
Address
Price
Beds/Bath
Interior
Updated

$27,750,000

$9343 / Sqft

3 / 5
2970 sqft
5 months ago

$24,900,000

N/A / Sqft

6 / 7
0 sqft
4 months ago

$21,000,000

$3321 / Sqft

5 / 7
6323 sqft
4 days ago

$13,500,000

$2396 / Sqft

6 / 7
5634 sqft
7 hours ago

$7,200,000

$2737 / Sqft

4 / 4
2630 sqft
1 week ago

$6,680,000

$3150 / Sqft

2 / 3
2120 sqft
4 days ago
Tell Us More About Your Search !
Find your ideal home.