---
Bay Harbor Islands Homes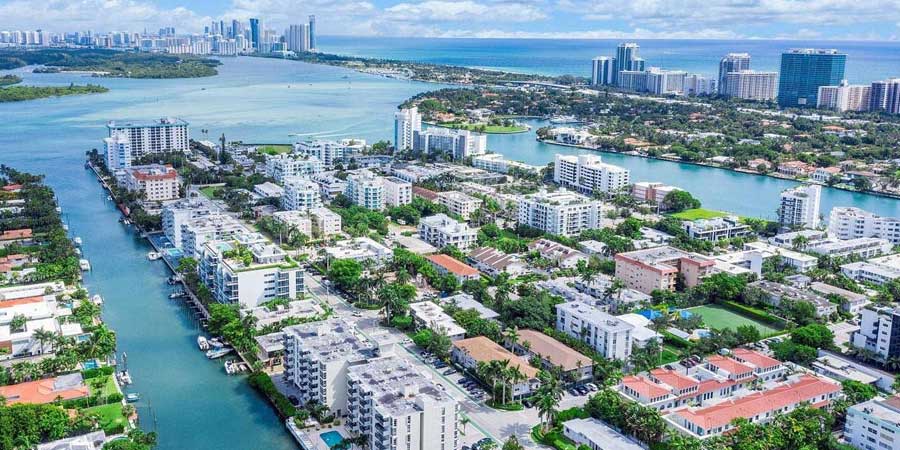 Bay Harbor Islands homes belong to the four-season luxury resort community, a world-class deep water harbor, the Olympic caliber Bay Harbor Equestrian Club, and three nine-hole golf courses designed by Arthur Hills to chain the woodlands and shorelines. Bay Harbor Islands comprises two islands settling to the west of Miami Beach. On the western island (known as West Island) are single-family homes, many of prodigious, boat-hosting size. Meanwhile, the eastern island (East Island) is the business district, where the local schools and multifamily buildings are situated.
Several of them are also of the luxury kind and significant for their midcentury Miami Modern architecture. The Islands constitute a town in themselves, sandwiched between Aventura and Miami Beach; they wrap less than half a square mile in the area but are home to more than 5800 residents, as recorded by the 2010 census.
Bay Harbor Islands homes are nestled in a vibrant, private community that is only a short drive away from the nearby cities of Bal Harbour and Surfside for more ultimate shopping and conveniences. Separated from the mainland by Biscayne Bay, residing at Bay Harbor Islands feature the most spectacular water views of the bay, serenity and relaxation, Florida sunshine, year-round breezes, and magical lights of the Miami skyline at night. Many of the homes come with lush, gorgeous gardens and outdoor pools. The most desirable homes lie to the west of West Island, with direct access to the Biscayne Bay.
Bay Harbor Islands homes' ideal location places its residents close to these prestigious neighborhoods, namely, Indian Creek, Bal Harbour, Biscayne Park, and Miami Beach. It is also located near numerous hotspots and landmarks such as Dexter's Apartment (from the famous Showtime series "Dexter"), Indian Creek Country Club, Oleta State River Park, and Normandy Shores Golf Club. Bay Harbor is also solely 20-minutes from Downtown Miami and the Miami International Airport and about half an hour to the I-95.
Address
Price
Beds/Bath
Interior
Updated

$22,500,000

$2632 / Sqft

6 / 10
8548 sqft
3 weeks ago

$18,000,000

$2910 / Sqft

7 / 8
6185 sqft
2 weeks ago

$11,900,000

$2947 / Sqft

5 / 5
4037 sqft
1 day ago

$8,400,000

$1523 / Sqft

7 / 7
5512 sqft
4 weeks ago

$7,999,999

N/A / Sqft

6 / 7
0 sqft
3 months ago

$7,500,000

$2246 / Sqft

4 / 5
3339 sqft
1 month ago

$4,900,000

$1404 / Sqft

6 / 6
3490 sqft
1 month ago

$3,500,000

$799 / Sqft

6 / 8
4376 sqft
11 hours ago

$2,999,999

$1093 / Sqft

4 / 4
2743 sqft
3 weeks ago

$2,990,000

$1051 / Sqft

4 / 3
2844 sqft
2 weeks ago

$2,800,000

N/A / Sqft

0 / 0
0 sqft
2 months ago
Tell Us More About Your Search !
Find your ideal home.